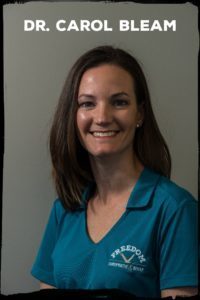 Dr. Carol Bleam is a 2003 magna cum laude graduate of New York Chiropractic College, where she earned her Doctorate of Chiropractic Degree. Prior to graduation, Dr. Bleam was selected by her college to represent the chiropractic profession as an intern at "The President's Hospital," The National Naval Medical Center (NNMC) in Bethesda (now known as The Walter Reed National Military Medical Center.) While at the NNMC, she was able to perform medical rotations through the various departments, as well as treat active duty chiropractic patients from all branches of the US Military.
Dr. Bleam truly cares for her patients and strongly believes in open lines of communication between all treating physicians. Each patient has unique needs and collaboration between all doctors and the patient is essential for a successful recovery.
Dr.Bleam received her Bachelors of Science degree from Loyola College in Maryland (now called Loyola University) and continues to pursue various continuing education in the fields of chiropractic and physical therapy. She is trained in the Graston Technique® for soft tissue injuries and enjoys learning about back pain and "core" stabilization as taught by Dr. Stuart McGill and Dr. Craig Liebenson.