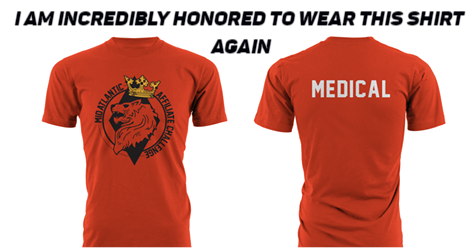 This weekend is going to be exhausting... but it will be so much fun at the same time! Have you ever had a weekend like that? A weekend that is virtually guaranteed to completely wear you out, yet you are strangely excited to do it anyway. This weekend I will get to be one of the leaders of the Recovery Team at the Mid Atlantic CrossFit Challenge. Last year was the first time that I got to "wear the red shirt" at a CrossFit competition, and we had so much fun and helped A LOT of the athletes.

Athletes will be coming to see the people on our team to deal with the aches and pains that come on over the weekend. During this event there will be approximately 400 athletes, doing at least 5 workouts over a two day period of time. Let that sink in for a second... The competitors will be doing FIVE incredibly challenging workouts in just about 36 hours... It is safe to assume that there will be some soreness and stiffness to treat, but we will also likely need to do some testing to determine the extent of some injuries, and the hard part is telling these athletes that they might want to bow out of the competition.

Please wish me luck, because I am going to need it (And probably a set of roller skates) this weekend!
Movement is my medicine,