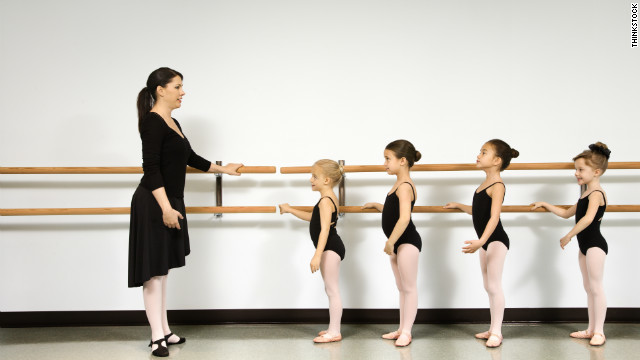 The Words That You Choose Matter.
This week I thought that I would share a post that I wrote almost 2 years ago about my daughter's first day of ballet! It is funny to reflect of this post while my two oldest are now playing soccer (I know a little more about soccer than I do about ballet...)
I tend to use this newsletter as a vehicle to spread health information that I come across during the week, but this week I want to talk about something that is even more important. About a week ago my oldest daughter, who is almost 4 years old, had her first ballet class at the Carroll County Dance Center. To say that I was a little apprehensive would be an understatement. First of all, I freely admit that I know NOTHING about ballet. How would I know what to say to her after her class was over?
To add a little pressure to what I was already feeling, I was responsible for getting an almost four year old girl to a dance studio that I had never been to before and she had to be on time. Let's just say that that being on time can be a little bit of a challenge in my house. She also had to be wearing a pink leotard, with white tights. That part was not an issue. The real test came in convincing an almost 4 year old that she was not allowed to wear a tutu to her BALLET practice. Yes, that is correct, no tutu at her first ballet practice! Needless to say she was less than pleased with that, but that is the policy at CCDC. After having that wonderful conversation with her, I came face to face my most daunting task. I am sure that every other father of a little girl will agree with me as to how intimidating this one is. I had to attempt to put my daughter's curly hair into a bun! Are you kidding me? That is totally out of my scope of practice! I am lucky if I can pull off a simple pony tail! In the end we made a valiant effort, and it kinda sort of resembled a bun...





During the drive to CCDC I was watching my daughter in the rear view mirror and asking the questions that you ask a 4 year old, when she is about to try something new. "Are you excited?" I asked, and she replied "Yup..." I get the feeling that that is probably the reply that I will get for the next 20 (or more) years, but that is a different topic for a different time. When we got to the studio we had to strip off the 5 layers of clothes that we needed to wear to get there, because it was the coldest day of the year. As I was peeling off the layers I could see that her excitement was building. She went into her practice studio, and soon the instructor and other girls followed her in. It was at this moment, that I realized that if she is going to continue with ballet, and I was going to be the one responsible for getting her there, I was REALLY going to have to work on my hairstyling skills!
Something changed when she entered that room. At first she was apprehensive, and struggled a little with following the instructions. As she became more comfortable, you could see a smile forming on her face. That smile seemed to light up the room, and brought the biggest smile to my face. I looked at the face of the "Dance Mom" next to me who was watching and (silently) judging her 4 year old daughter's practice, and in that moment I realized that not knowing anything about ballet is an advantage for me and for my daughter! I am completely incapable of judging anything she does! I am only able to watch my daughter dance with abandon, and smile along with her. Needless to say I enjoyed EVERY second of her practice!





I know that it has taken a little while to come around to the take home message for this newsletter, but here it is... We should all watch our children participate in their activities, without judging what they are doing! Remember that your children are learning the things that they are practicing, and it is not fair to them to expect them to know how to do everything that they are exposed to. They are not the experts, and neither are we. Leave the judgement to the coaches, teachers, and instructors and remember your role is to be the best parent to your child. After practice, you should ALWAYS ask the same question and make the same statement!
DID YOU HAVE FUN?





I LOVE TO WATCH YOU DANCE!




(Or Fill In The Blank)





THAT IS ALL THAT
YOU NEED TO SAY!
Movement is my Medicine,