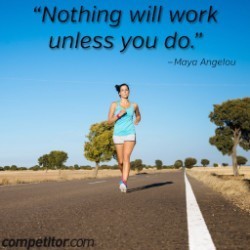 This weekend Baltimore will host one of the largest running festivals in the state of Maryland! And quite a few of our patients will be participating in the event and we could not be prouder to be a part of their journey. They have put in an incredible amount of hard work that to prepare for this weekend. Best of luck everyone. Run strong!

In honor of all of these athletes, this week I wanted to take a moment to discuss the benefits of adding core exercise and strength training to your current running routine. Not only will the training help you to run faster, but it may also help in injury prevention. Isn't that what all runners want? To run faster and be able to do more of it? If core and strength training can help you get there, isn't it worth your time and energy to do just that!

Many runners avoid resistance training because they are concerned about the idea of added bulk slowing them down. However, if you train appropriately, you can add strength without adding much bulk. Remember that added strength typically will translate to added speed!

Let us know if there is something that we can do to help you meet your running or strength training goals!
Movement is my Medicine,